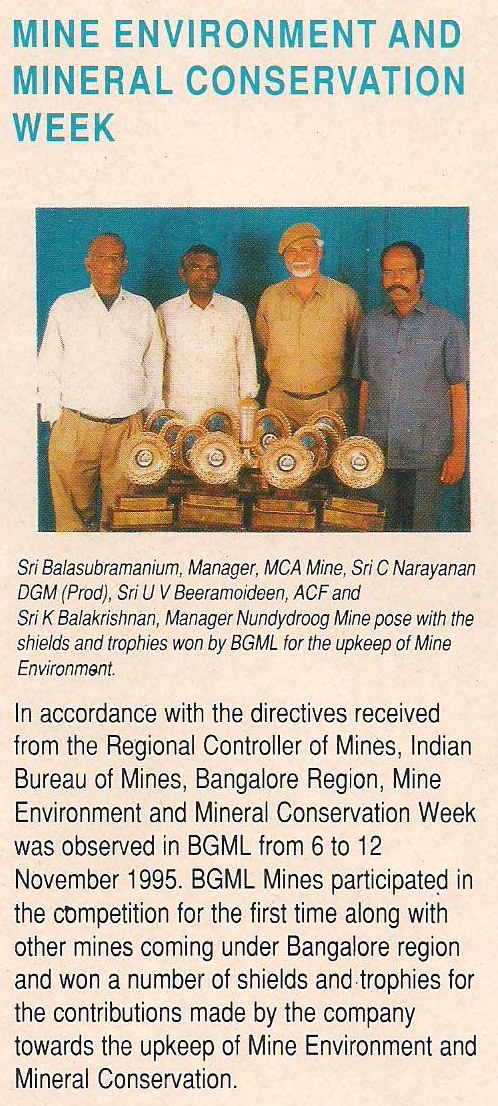 U. V.  Beeramoideen, ......DCF(Rtd).,
Director & Coordinator
Environmental Pollution Control Project Works,
DIRECTOR- Bamboo Society of India,
 " VANA VIKAS", 18th cross,
Malleshwaram, Bangalore.
Former project  specialist and advisor on implementation of air pollution control project works(raising vegetations on sand tailing dumps to contain dust and water pollution), afforestation of barren dry lands, sericulture, horticulture works, raising independent nurseries and its development, maintenance of golf course, raising avenue plantations, indoor plants, biohome making etc., as a turn key project works in Bharat Gold Mines ltd., at Kolar Gold Fields, Ramagiri Gold Fields, Chickarigunta Gold Fields in Karnataka and Andra Pradesh States, India, (1980-89, 1994-97).
Former Evaluator-National Afforestation & Eco- Development Board (Ministry of Environment & Forests, Government of India) Regional Center at University of Agricultural Sciences G.K.V.K. Campus Bangalore,    India
Former:-Member- First World Mining Environment Congress Committee (1995).
Former-Director-Karnataka State Veneers Ltd., Kavachur, Bangalore.   Former-Field Coordinator -Environment, Horticulture, Dry Cultivation Technology/ Watershed/Plantations Development at International Airport Authority of  India,  New Delhi (1991).
Former-Principal Adviser- Environment/watershed/Water Resources Development/ Dry  land cultivation, Technology, at GVITE, Kolar Gold Fields.        
Former-Field Consultant,  Neyveli Lignite Corporation Ltd,/Western Coal Field Ltd., Nagpur, for Eco-Developments & Afforestation Project Works. 
Former-Field Consultant & Adviser- National Environmental Engineering Research Institute, Nagpur,(1992)
 Project specialist -Integrated micro-watershed- Dry land cultivation technology/Rural Development and officers and staff Training facilities for Indo-Swiss, Rural Development Programme Project Works, at Kamalapur, Gulbarga (1992-94). 
Government Forest Officer-for afforestation and eco-development programme of project works, and raising compensatory plantations in the abundant- manganese and dolomite- open caste mines, in the high mountain ranges in Supa and Goa highland ( ridges, saddles and the rolling down steep slopes of the high mountains), forest regions, successfully.(1973-1977.)       
Government Forest Officer-for raising and reboising the degraded Government forests into high productive, high yielding resourceful forests with anticipated successful results, in Kollegal Government Forest Division, in India.(1978-1979).   Conducted assessment of Government Forest resources./ survey, /enumerations, for drawing Working Plan and project formulations in Mysore Government Forest Division, in India.1961-1963

Conducted research works on growing exotic vegetations in the new locations of its origin, and studied the impact upon the local vegetations for long term effects to the ecology and environment, at Bangalore research centre, India. (1964-1965).